The office of Ohio State Athletics Development is the fundraising umbrella of Ohio State Athletics and provides a way for individuals and organizations to help our talented young people receive a quality education and competitive experience.
The Ohio State University Department of Athletics is one of the most visible, respected and accomplished programs in the nation. It ranks among the largest by two important measures – number of student-athletes (over 1,000) and number of sports (36). Remaining in the forefront of scholarship, innovation and intercollegiate competition requires an incredible commitment from a generous group of supporters.
The Department of Athletics maintains totally self-supporting operations. All buildings and capital expenditures, including debt service, are funded by the department's generated funds without subsidy from the university. No student fees, tax dollars or university funds are used to support the programs of the Department of Athletics. Without philanthropic support, the Department of Athletics would not be able to offer our young men and women an opportunity to earn a highly respected degree while competing at the highest level of intercollegiate sport.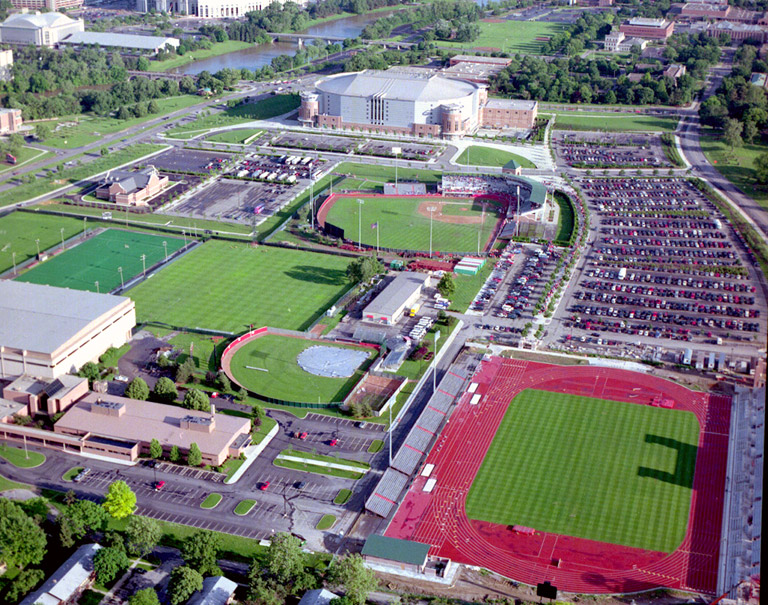 ---
Our Mission
The mission of the Athletics Development office is to directly support the overall goals of the Ohio State Department of Athletics by generating the funds for athletics grant-in-aid, capital campaigns, and scholarships for student-athletes in all 36 varsity sports. It strives to embrace and engage the most dedicated Buckeye fans within the OSU community to further promote the passion and camaraderie that makes the university so unique.
The following list of questions and answers is intended to provide you with some general information regarding your donation to Ohio State Athletics.
---
---
SEASON FOOTBALL PARKING
The following prices represented 2016 parking prices. Parking prices for future years are subject to change.
| Location* | Price |
| --- | --- |
| North Riverbank, South Riverbank, South Field House, West Stadium, East Stadium, Tuttle Garage | 375 |
| RV Parking, Schottenstein Center, Fawcett Center, Sisson, South Lincoln, Northwest Garage | 375 |
| Day of Game Motor home (Located at the Schottenstein Center, North of the Practice Fields and West of Jesse Owens Memorial Stadium) | 50 |
*Parking is available to donors who qualify at each respective
giving level
---
SEASON BASKETBALL TICKETS
There is no contribution necessary to purchase season basketball tickets. For more information, please
click here
.